So, I just read the funniest thing I've seen in awhile. Major League Baseball made a mistake. What else is new, right? Well, today, the Rookies of the Year for the American League and the National League were announced, and I'd say that they were pretty accurate and not very surprising. The American League honor went to Tampa Bay Rays third baseman
Evan Longoria.
Geovany Soto,
the young catcher
of the Chicago Cubs, was the winner for the
National League.
Longoria and Soto were definitely my choices for the a
ward before the results came out, and apparently the Baseball Writers' Association of America, the voters, agreed with me, because Longoria won unanimously and only one voter didn't
put Soto first on his ballot. With the results in, I decided to check to see who had also received votes
in the "election." In the American League, Chicago's

Alexei Ramirez

and Boston's

Jacoby
Ellsbur
y

finished second and third, respectively, not really surprising. Then, something
curious came
up when I was looking at the National League results.
Joey Votto
of the Cincinnati Reds was Soto's runner up, and Atlanta's
Jair J
urrjens
finished third. Again, both of these players were deserving of consideration for the award. Then, as I was scrolling down the list, something jumped out at me. I had to re-check to make sure I wasn't going completely out of my mind, but I wasn't. Right there, in fourth place in the Rookie of the Year voting, was Cincinnati's sensational pitcher, Edinson Volquez.
Before you think that I'm complaining because Volquez isn't good enough, I'd like to point out that in my opinion, based on last season, Edinson Volquez is one of the best young pitchers in the game. Although he didn't finish as good as he started, he definitely has potential to mature to be a feared pitcher. But no, that's not my problem with his name's mention on the list. The problem is that it was the
Rookie
of the Year voting, and, in case everyone's forgotten, Edinson Volquez is
not
a rookie.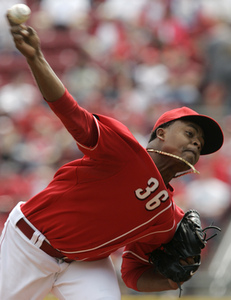 Volquez became more of a "household name" (among avid baseball followers, at least) this season when he started out strong. Everyone wondered where he came from, and soon it was learned that he was traded to Cincinnati from the Texas Rangers for Josh Hamilton. This deal ended up being the best for both teams, as Volquez tore through the National League lineups and Hamilton knocked around American League pitching like they've been doing it their entire lives.
But while Volquez may have gained a lot of popularity during the 2008 season, he's been a lot longer than this. To make sure I wasn't making myself look like an idiot, I did a little research. First off, the Major League Baseball requirements for rookie consideration:
A player shall be considered a rookie unless, during a previous season or seasons, he has (a) exceeded 130 at-bats or 50 innings pitched in the Major Leagues; or (b) accumulated more than 45 days on the active roster of a Major League club or clubs during the period of 25-player limit (excluding time in the military service and time on the disabled list).
Okay, so in order for Volquez to be in the running for Rookie of the Year, he would have had to have pitched less than fifty innings before this season. So, I checked his career statistics. In 2008, he pitched 196 innings. His career innings total? 276. In other words, before this season, Volquez had logged
eighty
innings of work, well above the maximum of fifty required to be called a "rookie."
Throughout this research, I found a blog on sportsillustrated.com on this mistake. The writer of the blog did a lot more investigating than I did; he actually called up the BBWAA to see what was up:
BBWAA secretary/treasurer
Jack O'Connell
graciously admitted the oversight: "It was a mistake. It slipped through the cracks." Turns out three writers incorrectly filled out ballots with Volquez in second place, and BBWA didn't catch the error. Although BBWAA usually picks off flawed ballots before they are counted, O'Connell disclosed that this has happened "multiple times" in the past. BBWAA will not correct the mistake because it would not change the winner.
Well, that's just a great way to look at things, isn't it? I mean, these "voters" are the BASEBALL WRITERS' ASSOCIATION OF AMERICA. The name speaks for itself. What do they do for a living?
They write about baseball.
Wouldn't you think that if it was your
job
to report on baseball, you would know whether or not someone was a rookie before casting your vote for him? I'm a die-hard baseball fan, and I know that Edinson Volquez was not a rookie this past season. Shouldn't these writers be following the game even more closely than I do?
Regardless, O'Connell was right, it wouldn't have affected the outcome in any way had the votes not been cast for Volquez, but I think it's the principle of the thing.
In other news, two trades have occurred tonight:
1) The Colorado Rockies have traded outfielder
Matt Holliday
to the Oakland Athletics for a trio of players believed to be reliever
Huston Street
, starting pitcher Greg Smith, and outfielder Carlos Gonzalez, and
2) The Florida Marlins have traded outfielder/catcher Josh Willingham and left-hander
Scott Olsen
to the Washington Nationals for second baseman Emilio Bonifacio, right-hander PJ Dean, and infielder Jake Smolinski.
First off, I think that the Holliday deal is kind of out of the ordinary for the Athletics. I mean, that entire team is based off of the theories of moneyball, and a high-profile player like Holliday is strange for an Athletics team of late. The Athletics don't usually have a power hitter of his caliber in their lineup, so it's definitely a change. He will make $13 million in 2009 and become a free agent after the season, so he is probably just a one-season rental for the Athletics, but they definitely don't pay $13 million a season for one player very often.
Oakland owner Lew Wolff has recently told confidants he's tired of losing, and this may be the first step toward contending again.
The other trade isn't really big news, but I like the Marlins (they're my favorite team, after the Yankees of course. I have a thing for teams that beat the Yankees in the World Series - I also like the Diamondbacks). Scott Olsen will most likely be in the Nationals' starting rotation. I mean it's not like they have anyone better - the ERA of their starting pitchers in 2008 was hovering near 5. Josh Willingham doesn't seem to have a place anywhere on the team, because the Nationals already have Austin Kearns, Elijah Dukes, and Lastings Milledge for the corner outfield positions, and Jesus Flores at catcher. Bonifacio lost his second base job with the Nationals last season when Anderson Hernandez joined the team, so they didn't really have anywhere to put him. The other two players included in the deal are Minor Leaguers.

So, only November and already a few deals going down. Can't wait to see what the rest of the off-season has to offer.

PS -> It's technically Tuesday, so 156 days until the Yankees' home opener 2009 !